Steven Kettles guilty of loud music row murder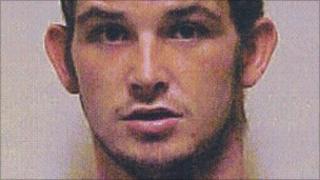 A Fife man has been found guilty of murder after stabbing his neighbour to death in a row over loud music.
Steven Kettles had denied murdering David Allan, 44, in a flat in Overton Mains, Kirkcaldy, by stabbing him on 3 March.
Kettles, 28, a prisoner in Saughton, had lodged a special plea of self defence at the High Court in Edinburgh.
Mr Allan had gone to ask Kettles to turn his music down in the early hours of the morning when he was stabbed.
Earlier the jury had heard that Kettles had learning difficulties and an IQ of 57.
He will be sentenced on 9 November.
Kettles lived in the ground floor flat, while Mr Allan lived directly above.
The jury had heard evidence there was a problem with Kettles playing loud music at night.
Det Supt Alan Stewart, who was called to the flat after the incident said he found a flat-screen TV in Kettles' bedroom and the volume control was set at its loudest.
When he switched the set on, pop music came on at "full blast".
A friend of Mr Allan, Stuart Easson, told Advocate Depute Keith Stewart QC that Mr Allan had mentioned loud music being played all the time in the flat directly underneath him.
Mr Allan's brother, John, 49, also spoke of the problem of loud music coming from downstairs.
Another friend of Mr Allan, James Stalker, said when he had visited him in his flat at Overton Mains he heard music.
In an interview at Kirkcaldy police station after the incident, Kettles claimed that Mr Allan had banged on his bedroom window, shouting for him to turn the music down.
He said he did, but shortly afterwards he claimed Mr Allan had come to his front door and was banging and kicking on it, shouting about the music.
He said he had been making a cheese sandwich and still had a knife in his hand.
He told the officer: "It was not my fault because he went into it."
He said he dialled 999, called for an ambulance and followed the instructions to apply pressure to the wound. In his statement, Kettles said: "I never forced the knife into him. He went into it."
Following the verdict Mr Stewart told Lord Tyre that Kettles had a number of previous convictions, including assault, theft by housebreaking, theft of a motor vehicle, wilful fire-raising and assault and robbery.
At the time of the murder he was on deferred sentence for possession of an offensive weapon - a screwdriver - and had also been on a bail undertaking in relation to alleged theft.