George Temple admits carving initials on partner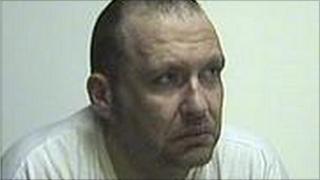 A man who carved his initials on his girlfirend's stomach with a knife has admitted domestic abuse.
George Kennedy Temple, 40, held Julie Rutherford, 36, down as he cut GKT on her body before telling her: "You'll always remember me."
Temple, from Edinburgh, admitted abusing Miss Rutherford from April to October 2010 to her permanent disfigurement and danger of her life.
Sentence was deferred until next month for background reports.
Advocate depute Gary Allan QC, prosecuting, told the High Court in Glasgow: "The catalogue of serious violence towards her included regular beatings with fist and foot and assaults including the use of a wooden pole and knives.
"The complainer and the accused began a relationship around June 2009 and up until the point she suffered a heart attack in September 2009 she described their relationship as great."
Stabbed knee
The court was told that Temple saved Miss Rutherford's life by giving her CPR, but when she got out of hospital after 12 weeks he changed towards her and became increasingly violent.
Mr Allan added: "She has difficulty recalling each instance of violence as she was beaten so frequently by the accused."
On one occasion Temple burst into the bathroom and stabbed Miss Rutherford on the left knee.
She told police that Temple had three or four kitchen knives with blue or red electrical tape round the handles.
Miss Rutherford claimed that Temple told her he did this so that his fingerprints would not be on the knives.
He repeatedly struck her on the head and body with one or other of the weapons.
Temple's attacks became more violent.
He began to kick and knee her between the legs and on one occasion attacked her with a piece of wood.
Following this attack she was unable to urinate for four days and could hardly walk.
Temple also held lit cigarettes against her skin causing multiple, painful burns to her arms, legs and torso.
Miss Rutherford never reported these matters to the police because she was too scared and Temple had destroyed her mobile phone.
The violence only came to an end after Temple beat her up in Wester Hailes Shopping Centre, Edinburgh, and members of the public called the police.
Amassed debt
When interviewed by police, Temple was asked if he was a violent man and replied that he had been.
Temple said his relationship with Miss Rutherford was excellent until she had amassed thousands of pounds of debt.
He was then asked why he stayed with her and replied: "I love her and I saved her life."
Police asked him if the relationship was violent and Temple replied: "I have slapped her, she's done the same to me."
Miss Rutherford said she had been substantially traumatised by the serious violence and abuse directed towards her by Temple.
She has moved from Edinburgh and is trying to get on with her life.
Solicitor advocate Jim Stephenson, defending, said: "Mr Temple has a record of violence, but he has never before served a custodial sentence."