Highly radioactive metal found at Dalgety Bay in Fife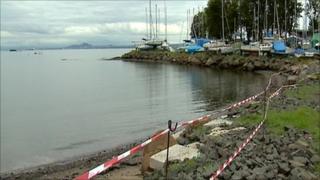 Highly radioactive material found on a Fife beach is giving "cause for concern", according to environmental watchdogs.
The Scottish Environment Protection Agency found the lump of contaminated metal at Dalgety Bay beach on Saturday.
Radium from wartime aircraft is thought to have been in landfill used when the foreshore was reclaimed.
The material was 10-times more radioactive than any material found at the site previously.
The discovery was made during work to trace the radioactive source, which is due to be completed over the next two weeks.
A specialist team removed the material from the beach and took it to a lab for testing on Wednesday. Warning signs have been put in place and the beach cordoned off.
Protective equipment
The metal has been contaminated with radium and is now being tested before the environmental watchdog can be certain about the threat it poses to public health.
Dr Paul Dale, Sepa radioactive substances specialist, told the BBC Scotland news website: "When the detector has an increased count rate you start moving the sand away to see if it gets stronger and on this occasion it gave me cause for concern because it went off the scale.
"We covered the tidal area with bricks and a specialist team removed the material using protective equipment and put it into a specialist container which has lots of shielding."
He added: "We have been monitoring the area in a bid to find the origin of radioactive material that we have been finding at the beach and this was when we found this lump of what looked like melted metal."
The council has been asked to erect signs warning people not to go onto the beach.
'Significant hazard'
Environment Secretary Richard Lochhead said he would be writing to the secretary of state for defence, urging action to address the situation.
He said: "We absolutely must get to the root cause of this repeated contamination of Dalgety Bay, and I want to reassure the local community that we will do everything in our power to prevent, once and for all, any radioactive sources being a significant hazard to the public."
Dalgety Bay was the site of a World War II airfield, where many aircraft were dismantled.
The dials in the planes were coated with radioactive radium so that they could be read at night.
It is thought the dials were incinerated along with other waste and later tipped on the land and used to help reclaim some of the coastline.
Numerous surveys have been carried out on the beach since radiation was first discovered in 1990.