East Lothian child attacker faces long jail sentence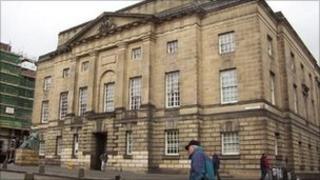 An East Lothian man who inflicted horrific injuries on a toddler he was babysitting is facing a lengthy jail sentence after admitting the attack.
The assault left the little girl with injuries which required surgical intervention.
She was taken to the Royal Hospital for Sick Children in Edinburgh on 16 March. A paediatrician described the injuries sustained by the child as "terrible".
Jaimi Watt, 24, admitted assaulting the child to her severe injury.
Advocate depute Alison Di Rollo told the High Court in Edinburgh: "Police and medical staff who were present as events unfolded speak of a distinct feeling of mutual shock in the examination room, of recoiling as her injuries became apparent and of having difficulty keeping emotions in check."
A consultant paediatrician who was called in said she had never seen such a seriously traumatised child. Surgeons had to operate on the girl.
Bite mark
The child was also found to have a bite mark, a bruised mouth and swollen lip as well as scratches.
Forensic physician Dr Michael Kaim told the court the girl would have been in agony because of her injuries and presented as a severely abused child.
A consultant paediatrician, Dr Dayeel Goh, described the injuries sustained by the child as "terrible".
Ms Di Rollo told the court: "According to her, her demeanour prior to examination was consistent with her being terrified and shutting the world out. She has never seen such an acutely traumatised child."
Watt admitted assaulting the child to her severe injury by punching her on the head, biting and scratching her.
Defence solicitor advocate John Scott QC said it was clearly a very serious and anxious case and a significant custodial sentence was "inevitable".
Lord Woolman told Watt: "You have pled guilty to a very grave charge."
The judge continued the case until next month for a background report and risk assessment on Watt.