Answers demanded on Fife particle find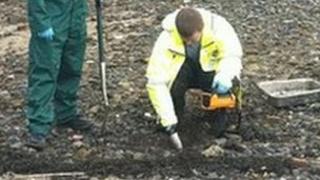 An MSP has demanded answers from the Ministry of Defence (MoD) on the risks posed by radioactive particles found in Dalgety Bay.
Annabelle Ewing wants to know why MoD scientists considered the material too dangerous to handle.
A fresh sweep of the beach began when a lump of metal from the beach was found to be ten times more radioactive than material found there previously.
The MoD said it was waiting for a report on the extent of contamination.
A report in the Sunday Herald newspaper quoted minutes from the last Dalgety Bay Risk Assessment Group meeting, in March 2009.
At the meeting, the Scottish Environment Protection Agency (Sepa) representative, Paul Dale, argued for radioactive particles from the beach to be properly analysed.
He was opposed by Ron Brown, principal scientist at the MoD's Defence Science and Technology Laboratory in Hampshire.
According to the newspaper, the minutes record: "RB stated that MoD analysts are not particularly keen to work with these samples due to concerns over dose rates from high-activity samples."
Wartime aircraft
Ms Ewing, who represents Mid Scotland and Fife, said: "We must have urgent action and answers from the Ministry of Defence over these shocking revelations that contradict assurances over the seriousness of this hazard.
"The MoD has consistently played down the possibility of health effects on members of the public from this contamination, but the department's own scientists do not seem to share that confidence."
The radioactive material on the beach at Dalgety Bay is believed to have come from the instrument panels of wartime aircraft, where it was used to make them visible at night.
Landfill from a site where the aircraft were buried was eventually used in foreshore reclamation.
A statement from the Ministry of Defence said: "MoD will continue to work with Sepa, the Scottish executive and the Dalgety Bay Forum to identify the likelihood of residual risks posed and requirement for any remedial action once the details of the most recent Sepa findings are published.
"Should significant risks present themselves in the interim, Sepa has the necessary statutory powers to address these."