Dog with fly eggs in head found in Burntisland, Fife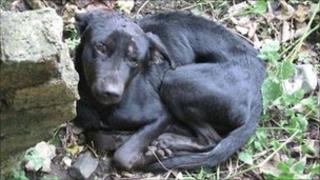 A "painfully thin" dog, has been found in Fife with an infected open wound on its head and swelling around its eye and muzzle.
The young male Labrador crossbreed was found at the bottom of an embankment near Binnend, Burntisland on Saturday.
Officers said hundreds of fly eggs had been laid in the head wounds.
The dog was only found when another dog refused to leave the area until his owner had investigated. The dog is being treated by the Scottish SPCA.
Anyone found guilty of causing an animal unnecessary suffering faces up to 12 months in prison, a £20,000 fine or both.
They can also expect to be banned from keeping animals for a fixed period or life.
The dog, which has been named Toby by staff, has been taken to a local vet surgery for treatment before being transferred to the Scottish SPCA's Edinburgh and Lothians Animal Rescue and Rehoming Centre for further care and rehabilitation.
'Clearly suffering'
Inspector Nicola Liddell, of the Scottish SPCA, said: "This poor soul was very lucky to be found as he was tucked away out of sight down an embankment off a remote farm track.
"The man who found Toby was out walking and it was only when his dog wouldn't come away from the area that he went to have a look.
"He appeared aggressive at first but this was purely through fear.
"Once I caught him he seemed to realise that we were here to help him and he was so grateful to have been found.
"Toby was very wobbly on his feet but he managed to clamber into the back of my van where he lay down.
"The vet who examined him thinks his wounds may be a bite from another dog or some other sort of trauma.
"Flies were buzzing around his head and hundreds of fly eggs had been laid around the wounds.
"Clearly he was suffering, not just from the injuries to his head and face but also from his extremely thin condition."