Arrests over alleged hate crime at Dunfermline match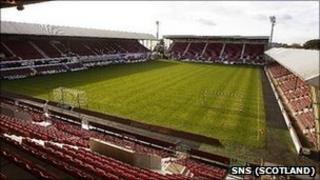 Two men have been arrested in connection with football-related hate crime at a match between Dunfermline and Hearts in Fife at the weekend.
Fife police said the arrests took place at East End Park on Saturday.
An 18-year-old man was arrested in relation to a racially aggravated breach of the peace in the north west stand full of Dunfermline supporters.
A 19-year-old was arrested in relation to a religiously prejudiced breach of the peace in a stand with Hearts fans.
Both men are due to appear at Dunfermline Sheriff Court later.
'Clear message'
The arrests were made as the result of an intelligence-led anti-racism operation, which has been running at East End Park for the last few Dunfermline home games.
Plain-clothed police officers have been in the crowd to apprehend anyone acting in a racially motivated way.
Sgt Andy Smith, of Fife Constabulary, said: "Fife Constabulary will continue in its commitment to deliver a clear message to those who continue to shout hate-filled comments during football matches.
"These arrests should act as a further warning to supporters attending East End Park who are intent on conducting themselves in a racially or religiously prejudiced manner."