First tram arrives at Gogar depot in Edinburgh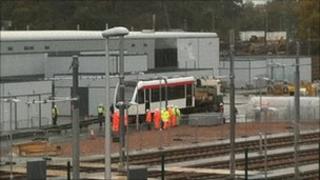 The first tram has arrived at the Gogar depot in Edinburgh from Spain.
The vehicle, which was split into seven modules for its 1,500-km (932-mile) journey from Irun, northern Spain, arrived on three low-loader lorries.
It is first of the 27-tram fleet to be housed at the newly-completed depot. Deliveries will continue over the coming months.
The depot is now electrified, allowing static testing on the trams to begin immediately.
Dynamic testing is then due to begin in early December, once the test track is complete.
The tram travelled by ferry from Amsterdam to Newcastle and then by lorry to Edinburgh.
Another tram, which has previously been on show in Princes Street, is due to be taken out of storage in West Lothian and taken to the Gogar depot later in the week.
The rest of the trams are due to be transported from Spain over the next few weeks.
The tram project is due for completion by summer 2014, at a cost of £776m.