Pair jailed for Knightsridge Post Office sword raid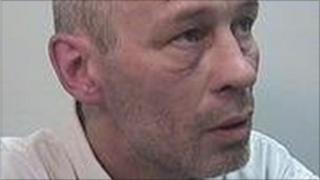 Two thieves who admitted holding up a West Lothian post office with a samurai sword have been jailed.
Francis McLean, 50, and Valene Brown, 21, used the sword in a bid to steal almost £17,000 from Knightsridge Post Office in Livingston in May.
They dropped about £15,000 of the cash after shop assistant Aiden Saeed Gilani wrestled the weapon away from the duo.
At the High Court in Edinburgh Brown was jailed for three years and McLean for five years and three months.
McLean was told he would serve a further two years on licence once released.
Sentencing the pair, Lord Andrew Hardie said Mr Gilani, 25, the postmaster's son, "bravely" tackled the pair despite the fact McLean was "brandishing a sword with a 20-inch blade".
"He managed to cause you to drop some of the money and was able to gain control of the weapon," he said.
"Clearly his actions were extremely brave but could have resulted in serious consequences."
Extended sentence
The court heard that McLean brandished the weapon from his sleeve and then told Mr Gilani to lie down.
But after Mr Gilani wrestled the weapon from the pair he used the sword to chase the two out of the shop.
McLean and Brown fled on their bikes after the incident but their DNA was discovered on items left at the scene, the court heard.
Lord Hardie said McLean had previous convictions for drugs, dishonesty and a weapon charge, and said the post office robbery was committed while he was on bail.
The judge said: "I am satisfied that the public will not be adequately protected unless an extended sentence is imposed."
He said Brown was in a different position to McLean, as she was much younger and was a first offender.
Defence counsel Victoria Young said Brown did not use the sword herself, but had gone to the shop intending to hold the door open for McLean to distract the shopkeeper.
She added: "Brown did not take part in any actual violence, but she nevertheless played a role in the commission of the offence."
Solicitor advocate Ian Bryce, said McLean's crime was a "hapless" one.
At the High Court in Glasgow last month Brown and McLean pleaded guilty to assault and robbery.