Fans on Fife train heard singing sectarian songs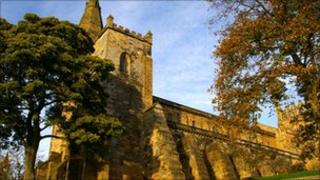 A group of football fans heard shouting offensive comments and singing sectarian songs on a Fife train are being sought by police.
The British Transport Police (BTP) has appealed for witnesses who were travelling on Saturday's 13:19 Edinburgh to Cowdenbeath train.
The BTP said the force did not tolerate hate crime.
About 40 supporters got off the train at Dunfermline Town or Dunfermline Queen Margaret station.
PC Stuart Cowan said: "Hate crime of any form will not be tolerated by British Transport Police on Scotland's rail network."
He said passengers and rail staff should be able to travel without the threat of antisocial behaviour.
"I am appealing for anyone who was on the train or the stations and witnessed the despicable behaviour of the so called supporters or has any information regarding the identity of those involved to contact me as a matter of urgency," he added.