Dog-dirt row murderer Mustafa Elsherkisi loses appeal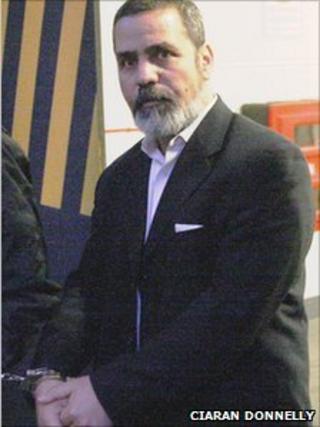 A pet owner who stabbed a neighbour to death after a row about dog dirt in Edinburgh has lost an appeal against his murder conviction.
Mustafa Elsherkisi, 49, was ordered to serve at least 15 years before he can ask to be freed, when he was found guilty of racially aggravated murder.
He stabbed Mohammed Idris Mirza, 47, in Stenhouse Gardens North on 26 May 2010.
Elsherkisi, a Libyan, who had denied murder, lost his case at the Court of Criminal Appeal.
Lawyers acting for Elsherkisi argued that he had suffered a miscarriage of justice following alleged misdirections by the trial judge Roger Craik QC.
'Obviously wicked'
Lord Hardie, who heard the appeal with Lady Smith and Lady Cosgrove, said: "We are not persuaded that the trial judge misdirected the jury when he told them that intending to kill someone was obviously wicked."
"While we have acknowledged that to be an inaccurate statement of the law, if viewed in the abstract, it was not a misdirection in the present case where no justification or mitigation for the killing was advanced.
"In such a situation the trial judge was correct to describe an intentional killing as obviously wicked."
Elsherkisi and his wife had moved into the flat beneath Mr Mirza earlier in the year. But friction built up with neighbours partly because of his Akita dog fouling in the common garden.
On the day of the attack Elsherkisi was exercising his dog but got into a confrontation with Mr Mirza.
His brother Iqbal saw Mr Mirza arguing with Elsherkisi prior to the killing.
He said Mr Mirza was asking Elsherkisi to clean up dog dirt.
Elsherkisi went into his flat and Mr Mirza was persuaded by his brotherto go upstairs to his home.
But Elsherkisi, a former diver, emerged from his home with the dagger and made a racist comment.
He then sprang at Mr Mirza and stabbed him in the chest inflicting an "unsurvivable" wound which damaged a major blood vessel.
The murderer had claimed at his trial at the High Court in Edinburgh that Mr Mirza fell on to the dagger and his death was the result of an unfortunate accident.