Boy charged over destroyed artwork at Jupiter Artland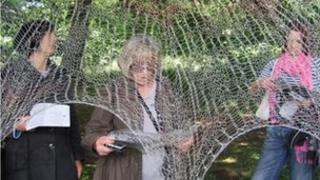 A teenage boy has been charged in connection with the vandalism of a valuable artwork in a sculpture park on the outskirts of Edinburgh.
The 15-year-old will be referred to the Children's Reporter after the Over Here piece by London-based artist Shane Waltener was damaged.
Valued between £40,000 and £50,000, it was damaged at Jupiter Artland on the Bonnington House estate in July 2011.
The artwork was a giant, knitted cobweb which hung from a tree in woodland.
'Brutally destroyed'
At the time a Jupiter Artland spokesman said it was "a wanton act of destruction that has highlighted how vulnerable some of the work is".
He added: "We were all very sad that such a delicate piece could be so brutally destroyed but thoroughly heartened by all the kind words of support that Jupiter received."
The contemporary sculpture garden houses work by artists and sculptors such as Antony Gormley, Anish Kapoor, Marc Quinn and Cornelia Parker.
The artist is to replace the piece later in the year.