James Purves jailed over fatal stabbing in East Lothian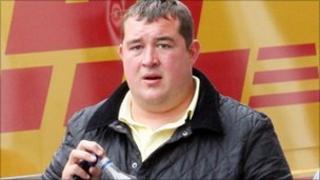 A man who killed the father of an unborn child in East Lothian has been jailed for 15 years.
James Purves, 29, claimed he was acting in self defence when he plunged a knife into the chest of Paul Scott, 22.
A jury cleared Purves of murder but found him guilty of culpable homicide at a Tranent flat on 7 February 2011.
A murder trial at the High Court in Edinburgh heard two months after the fatal stabbing Mr Scott's partner gave birth to their son, Jared.
Jailing him, Judge Michael O'Grady QC told Purves, who has previously served sentences for serious assaults, that he was no stranger to violence.
The judge said although culpable homicide was a lesser charge, Purves had still committed "a dreadful and appalling crime".
"You have taken the life of a young man and, sadly, no sentence I can impose can change that or right that wrong," he said.
The trial heard how Purves' on-off girlfriend, Donna Beatson, turned up at the flat in Tollhouse Gardens, Tranent, just before 04:00 along with two taxi-loads of men and women, with Mr Scott among them.
She let them in with keys she had secretly had cut the previous afternoon.
Purves was at home with his friend James Ritchie, 27, and two girls, relaxing after a night out in Edinburgh, listening to music.
Moments later, Mr Scott lay dying after a furious Purves, yelling and swearing about people coming into his flat, struck at least three blows with a large kitchen knife.
Witnesses said Mr Scott's arms were at his side and he did nothing to defend himself against 19-stone Purves.
But Purves, giving evidence, claimed it was Mr Scott who had the knife and spoke of the "horrible feeling" as he disarmed the other man and stabbed Mr Scott.
He told the jury he only wanted the other man to let go and stop punching him.
Challenged about his story by advocate depute Iain McSporran, prosecuting, Purves said: "I think about that every single night and I wish I hadn't done it. I wish he had stabbed me and then I wouldn't be here right now."
The trial also heard that the fatal encounter followed a flurry of threatening texts from 21-year-old Donna to Purves. She told him a friend had seen him in the company of two girls and warned: "Watch what happens tonight."
After the stabbing, Purves fled to a caravan in Eyemouth and gave himself up to police a week later.
The weapon was never found but scene of crime officers searching the flat noticed the largest of a set of knives was missing from a block in the kitchen.
Solicitor advocate John Carroll, defending, said Purves' record for violence was the result of his build "attracting unwanted attention".
The lawyer, asking for leniency, said Purves was in his own home at 04:00 when it was invaded.
He said: "He was not the author, he says, of what happened. He didn't bring it upon himself. He didn't invite what happened and the outcome was totally unexpected."
After the jury verdict the court, Judge O'Grady heard that Purves had been on bail at the time facing charges of drink driving and a drugs offence.