Five candidates for St Andrews rector post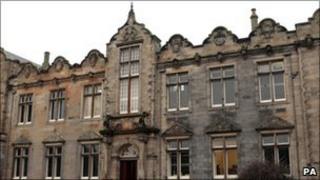 Five candidates have been nominated for the post of Rector at the University of St Andrews.
Standing in the election are Michael Forsyth, Colin Fox, Abeer Macintyre, Alistair Moffat and Pat Nevin.
The rector acts on behalf of the students of St Andrews and chairs the university court, its supreme governing body.
The current rector of St Andrews is Kevin Dunion, the Scottish information commissioner.
Michael Forsyth, now Baron Forsyth of Drumlean, is a leading Conservative politician and former Secretary of State for Scotland.
His socialist opponent Colin Fox is a former member of the Scottish parliament, and a spokesman for the Scottish Socialist Party.
Abeer Macintyre is a former BBC broadcaster who now works for the charity Mary's Meals.
Writer and historian Alistair Moffat is a former director of programmes at Scottish television.
Pat Nevin is a sports writer and broadcaster who, as a top-class footballer, played for Chelsea and for the Scottish international team.
Online voting
Scotland's ancient universities - St Andrews, Edinburgh, Glasgow and Aberdeen - have a rector, as does Dundee.
Online voting at St Andrews will open on Wednesday, 26 October.
Computerised polling stations will be available on Friday, 28 October, with all votes to be cast by 17:00 that day.
President of the Students' Association Patrick O'Hare said: "St Andrews has a great tradition of accomplished, working rectors who have represented students well and served the university community.
"I am delighted to see that this year the calibre of the candidates again does not disappoint.
"Living up to the standard of current rector Kevin Dunion will be difficult, but the set of candidates have already achieved great things in their field, be that politics, journalism, literature or sport."