Carjacker Paul Purves told police he could not drive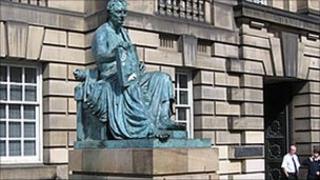 A man who carried out a gunpoint carjacking on a woman who was stopped at a red light in Edinburgh later told police that he could not drive.
Paul Purves opened the door of the car and pointed an air gun which looked like a Glock pistol at Linda Haggarty, 57, in Newington at night.
Purves admitted assaulting Ms Haggarty and robbing her of the car and contents on 1 September 2008 at East Mayfield.
The 27-year-old was remanded in custody at the High court in Edinburgh.
He will be sentenced next month.
Quiet street
Purves also pled guilty to possessing the air pistol contrary to the Firearms Act when committing the robbery, and failing to appear at a hearing at the High Court on 3 June 2009.
A DNA match was found for Purves on the steering wheel of the car taken in the robbery.
Purves was freed on bail following the carjacking in 2008 but failed to turn up for a High Court appearance the following year.
The fugitive was detained in the Irish Republic on a European Arrest Warrant in September last year before being returned to Scotland earlier this year to face justice.
During the carjacking Purves shouted at his victim to get out and she did but sounded the horn to try and attract attention in the street, which was quiet at the time.
Bags in undergrowth
The robber climbed into the driver's seat and drove off leaving the victim in the road shouting for help and "visibly upset", the court heard.
Police were called and within minutes found the abandoned car.
The driver's handbag was also discovered in a nearby garden with the purse and other contents missing.
Officers later recovered an air pistol tied in two plastic bags in undergrowth at the back of a church.
The prosecutor said that acting on information, police later went to homeless short term accommodation in the city's Dalkeith Road, where Purves was living at the time, to search his room.
He was asked if he drove the car but replied: "No I was drunk and I can't drive."