Nadeem Siddique murder trial witness denies lying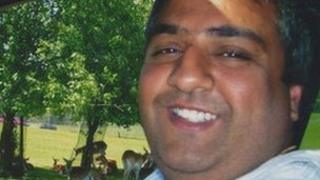 A key witness in the trial of a businessman accused of arranging the murder of his brother has denied he lied in his account of the death.
David Dalgleish, 44, said he saw Mohammed Nadeem Siddique, 38, shot in a flat in Glenrothes, Fife.
The gunman then turned his pistol on Mr Dalgleish, the jury heard, and he was wounded in the struggle which followed.
His brother, Mohammed Azam Siddique - known as Mo - is one of three men who deny the killing.
Mohammed Nadeem Siddique, who was known as Toby, died on 24 October 2010.
At the High Court in Edinburgh, Mr Dalgleish pointed out Bulgarian Tencho Andonov, 28, as the man who pulled the trigger and claimed that Toby Siddique's brother, Mo, had persuaded him to set up the meeting where the shootings took place.
'Confusing' details
The meeting was supposed to be about striking a deal to buy contraband cigarettes.
After a week in the witness box, Mr Dalgleish was questioned by Andonov's defence QC, Brian McConnachie.
The lawyer claimed information Mr Dalgleish gave to murder hunt detectives in the wake of the shootings in October did not fit Mr Andonov.
Mr Dalgleish said he was doing his best to remember, but details of the incident were confusing.
Mo Siddique, 42, denies arranging his brother's murder, along with Mr Andonov and Deyan Nikolov, 27. They also deny attempting to murder Mr Dalgleish on 24 October last year.
The trial continues.