Pellets must remain in shot Dedridge Pond swan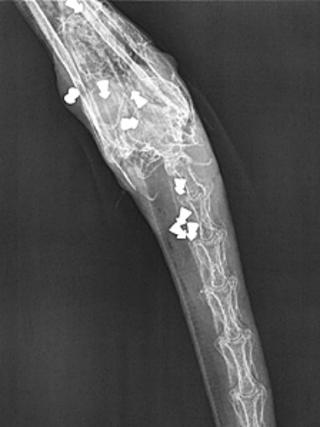 A mother swan who was shot in the head 14 times in an airgun attack will have to live with several pellets inside her for the rest of her life.
The adult female, Edna is being treated by vets along with her mate, Eck, who was shot four times, at Dedridge Pond in Livingston, West Lothian last month.
Vets said they were only able to remove eight pellets from the swans for fear the rest were close to their spines.
The swans' cygnet was uninjured in the attack.
The adult swans were treated at Inglis Vets in Dunfermline.
Colin Seddon, Scottish SPCA wildlife rescue centre manager, said: "Despite their severe injuries, which were initially feared to be life threatening, Edna and Eck are progressing well.
"Unfortunately some of the airgun pellets are lodged in areas of the head and body which are extremely hard to access and remove without causing potential spinal injury. Therefore the vets have decided to leave some of the pellets in the body.
"Against all odds, the swans are pulling through and their cygnet, who was lucky enough to escape any shots, is also doing very well.
"They are now enjoying some gentle exercise in our paddock and pond and all three are proving to be very resilient birds."
Mr Sneddon added: "Why anyone would want to injure or kill a defenceless family of swans is beyond belief. We are just glad that we have been able to help them recover from this horrific ordeal."
The swans will remain in Scottish SPCA care until they are fully fit and strong enough to be returned to the wild.
A £1,000 reward has been offered by an anonymous donor for information leading to a conviction.