Jade Parker jailed for disembowelling man in window row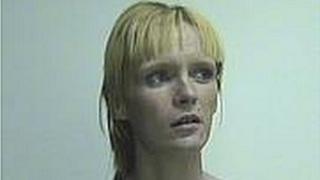 A Midlothian mother who disembowelled a man with a pink knife because he broke her window has been jailed for 45 months.
Jade Parker, 23, from Dalkeith, had earlier admitted attempting to murder Anthony McMahon outside her home in Mayfield on 18 October 2010.
When they rowed over the broken window and she threatened to stab him he said: "Go on then."
She was told her remorse appeared genuine at the High Court in Edinburgh.
Mr McMahon had known Parker for years and she called him "Uncle Tony" the court heard.
Solicitor advocate Krista Johnston, defending, said: "He had known this young lady since she was seven or eight years old and did not think she had it in her, did not think she would do it."
However, the lawyer said, a combination of drink and a wish to show off in front of two men, one her boyfriend, led Parker to lash out.
Advocate depute Laura Thomson said: "She stabbed Mr McMahon in the stomach using a pink knife.
"The injury bled profusely and Mr McMahon's intestines spilled out of the wound."
Minutes later, Parker was trying to help her 40-year-old victim and was calling 999 the court heard.
Sentencing her on Wednesday, judge Lord Brailsford told the mother-of-two that her remorse appeared genuine and she had no serious previous convictions.
The judge continued: "However I have to have regard to the gravity of the offence and the fact that you used, for whatever reason, no doubt drugs and alcohol played a part, but you chose to use a knife."
The court heard that she and her boyfriend did not want the company of "alcoholic" Mr McMahon and sent him away, claiming that Parker wanted to go to bed.
He was "angry" when he later caught sight of her returning home after buying more alcohol.
Mr McMahon wrapped a cup in a bag and broke a window at Parker's home.
After the stabbing, paramedics had to hold Mr McMahon together as he was taken to hospital, where he spent 48 hours in intensive care.
Doctors said his life was in danger.
Police questioned Parker who said she was "raging" after the window was broken.
They found the pink kitchen knife with a seven inch blade in Parker's fridge and noted "a strong perfumed smell."
The court heard that for years Parker had struggled with drink, drugs and post-natal depression.