Widow speaks at Toby Siddique murder trial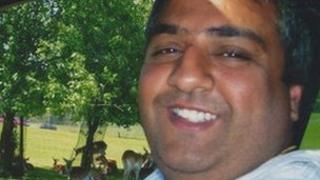 The Fife widow of a businessman allegedly gunned down on the orders of his brother has told a murder trial of the last time she saw him alive.
Saimah Siddique, 32, said husband Toby left their Fife home saying he would be gone for about 30 or 40 minutes.
Mohammed Nadeem Siddique, 38, who was known as Toby, died on 24 October 2010 in a flat in Glenrothes, Fife.
His brother, Mohammed Azam Siddique - known as Mo - is one of three men who deny the killing.
"I am going to see a Polish guy about cheap cigarettes," he told her, adding that he was driving to Glenrothes.
She said that for her husband 30 minutes could easily mean an hour because he was often late.
Contraband cigarettes
She tried to contact him more than once and he answered his mobile phone, telling Mrs Siddique "I will be home in 10 minutes."
Mrs Siddique said that in the background she could hear a television and probably a conversation taking place. "But I couldn't make out what they were saying. It was a very short call."
Mrs Siddique said she contacted Marc McHardy, described as Toby Siddique's right hand man.
When she mentioned cigarettes and Glenrothes Mr McHardy said he thought he might know where her husband was.
Toby's brother Mo Siddique, 42, along with Bulgarians Tencho Andonov, 28, and Deyan Nikolov, 27, deny murder and conspiracy to murder.
They also deny attempting to murder security man David Dalgleish, 44, at his flat in Forres Drive, Glenrothes, where Toby Siddiqie, 38, was shot on 24 October 2010.
The charges against them include an allegation that Toby Siddique, 38, was lured to his death by a promise that he could buy contraband cigarettes and drink.
Earlier Mrs Siddique had described his business dealings, including a half share of a property company which was said to be the subject of argument between the two brothers.
She also said her husband made frequent trips to France and Belgium and, on his return, would give packets of tobacco to friends.
Mo Siddique, 42, has lodged papers in court blaming Mr Dalgleish for his brother's death.
Andonov, who is accused of pulling the trigger, and Nikolov say they have alibis.
The three also deny attempting to murder Mr Dalgleish.
The trial continues.