Stuart Kitt denies putting girl, 4, in kitchen freezer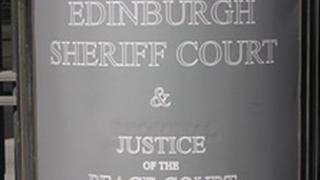 A man accused of injuring a girl after holding her against her will in a kitchen freezer has told a court: "I would never do that to a kid."
Stuart Kitt, 33, told Edinburgh Sheriff Court he did not force the four-year-old girl into a household appliance at an address in the city in October 2007.
Mr Kitt told the court he was not the man who caused her to suffer painful bruising and burns injuries.
He alleges that the girl's mother carried out the assault.
He said: "I did not do that. I would never do that to a kid."
Mr Kitt was speaking on the third day of his trial.
He denies a charge of assault to severe injury and two charges of failing to attend court whilst on bail in December 2009 and September 2010.
He told defence solicitor Duncan Hughes that he was acting as the girl's babysitter on the night of the alleged attack.
Mr Kitt said the child's mother was attending a psychic night in a nearby pub.
Before leaving, Mr Kitt told the court that the woman appeared to be "agitated" and was "shouting" at the girl, who is now aged eight.
He said: "She was shouting 'stop playing with my make up, stay away from the make up'. She also said 'stop mucking about with the hair dryer and get an ice lolly'."
When the woman returned , she initially thought her daughter was suffering from meningitis and she slept in the same bed with her daughter that night.
The court heard that Mr Kitt was later arrested in connection with the alleged assault.
But he told the court he did not take the girl into the freezer but he thought her mother was responsible for the attack.
Crying and distressed
Earlier, the court heard from Aysel Crockett, a consultant paediatrician, who examined the girl at Edinburgh's Sick Children's Hospital three days after the alleged attack.
Referring to burns on the child's forearms, Dr Crockett said: "She was crying and distressed. It was difficult to measure appropriately because it caused her great pain."
When depute procurator fiscal Ian Wallace asked whether the burns on her backside could have been caused by having to sit in a freezer, she agreed.
When asked by Mr Wallace about whether the girl could fully recover from the injuries, Dr Crockett replied: "I feel that her emotional trauma should be taken into account. She has had psychological input to help her come to terms with what happened to her.
"She will probably carry this all her life."
The trial before Sheriff Kenneth Maciver was adjourned until Monday.