Stabbed accountant Leslie Cumming trial begins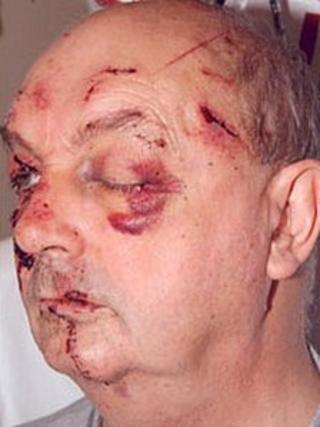 A man has gone on trial accused of the attempted murder of a senior Law Society official in Edinburgh.
Robert Graham, 46, has been charged with attacking Leslie Cumming in a lane behind his home in Murrayfield on 23 January 2006.
The former chief accountant with the Law Society of Scotland, who is now 68, was attacked with a knife or blade.
Mr Graham denies the charges at the High Court in Edinburgh.
The court heard on Monday that Mr Cumming suffered injuries consistent with a sustained and frenzied attack.
A doctor agreed that some of the injuries he suffered had potentially put his life in danger.
Dr Rachel Miller told the court she had seen Mr Cumming at Edinburgh Royal Infirmary on 26 January 2006.
The forensic medical examiner said she was told by a detective that days earlier Mr Cumming had returned to his home by car and was attacked by an unknown male wearing a balaclava and gloves.
Sutures and staples
Dr Miller said she was informed that he fell onto his knees pulling the attacker towards him. The attacker had walked away.
She said Mr Cumming had sustained more than 40 injuries, although some were due to medical treatment and others had been picked up while gardening.
Dr Miller said he had injuries to the face, chest, back, arms and legs. Sutures and staples had been used to close some wounds and a chest drain had been put in.
She said the pattern and type of injuries sustained by Mr Cumming were "consistent with sustained, frenzied, vicious attack" with a sharp pointed weapon which could have had a serrated edge.
The jury were also shown photographs of Mr Cumming's injuries during the first day of the trial.