Thousands apply for Edinburgh Primark jobs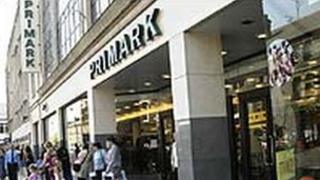 Thousands of people have flocked to apply for jobs at fashion retailer Primark's new flagship store on Edinburgh's Princes Street.
Almost 4,500 people applied for retail and management positions at the store, which is set to open on 10 December at 09:00.
All 557 of the new positions have already been filled and staff training has started.
The Edinburgh store will be Primark's 19th in Scotland.
Economic benefits
A Primark spokesman said: "We have been very impressed with the high quantity and calibre of applications received.
"We have recruited a total of 557 management and staff in our Princes Street store and received almost 4,500 applications for these positions.
"The new store, which covers 75,000 sq ft of retail space over five floors, will bring strong economic benefits to the city and will also help revitalise the shopping experience in the city centre.
"We have also worked closely with the Edinburgh City Council towards its 'string of pearls' vision for Princes Street."
Tom Buchanan, Edinburgh City council's economic development committee convener, said: "The new Primark store is an exciting flagship development for the city which is eagerly anticipated by many shoppers in the area.
"Clearly, it's also very attractive to jobseekers and I'm pleased that there's been such a strong level of interest.
"Both the development of the store and the ongoing employment it will provide are of great economic benefit to Edinburgh."
Primark currently has 226 shops in the UK, Ireland, Spain, the Netherlands, Portugal, Germany and Belgium.