Forth pipeline leak smell 'not health risk'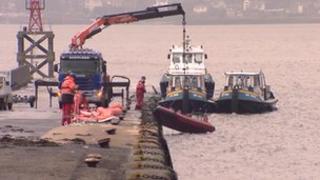 The odour caused by a leak from an effluent pipeline near the Firth of Forth is not a risk to human health, environmental agency Sepa has said.
Sepa said special air monitoring equipment recorded hydrogen sulphide in the air at the site of the leak in South Queensferry.
Residents complained of a smell similar to rotten eggs.
BP, which operates the pipeline, apologised and said precautionary measures had been put in place.
These include a boom on the Forth.
Engineers are excavating the pipeline to try to seal the leak.
The leak has been located in an underground pipe which crosses a field close to the foreshore, just east of the Forth Bridge.
The pipe carries waste water used for cleaning equipment at BP's Hound Point Terminal and links up with the Dalmeny oil storage tank facility near South Queensferry.
Capsizing sailors
Russell Aitken, 39, from Edinburgh, who owns the boat shop Bosuns Locker in South Queensferry, told the BBC Scotland news website he was concerned about what was leaking into the Forth estuary.
"It smells sulphury and reminds me of the smell at New Zealand's hot springs.
"I am concerned about what it is that is polluting the water as dingy sailors who capsize could get a mouthful of the water.
"It is concerning every body."
Lord Provost George Grubb, whose Almond council ward covers South Queensferry, said: "I live in South Queensferry and the smell is mainly concentrated in the old part.
"I am delighted that the emergency services were right on the ball as it creates confidence in the community.
"I hope this does not happen again."
The oil company said the water contains only a small amount of impurities.
The leak, which is under a field about 100m (328ft) from the Firth of Forth, was reported to the emergency services at about 13:30 on Monday.
The waste water is surfacing and then trickling down to the shoreline.
In the past the pipe carried ballast water used to keep tankers afloat as they were being loaded with oil in the Firth of Forth.
Sepa officers are currently at the site taking samples of the discharge for chemical analysis.
There are restrictions on roads in the area.
The Hound Point terminal, which is owned and operated by BP, is the largest North Sea oil exporting facility in Scotland.
The terminal consists of two jetties at which vessels up to 350,000 tonnes deadweight can be loaded with oil from the Forties pipeline system.