Olympics 2012 bids for Edinburgh Castle rings advert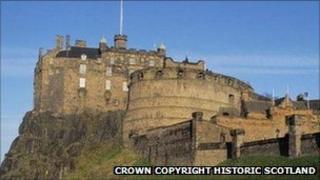 An application has been made to erect Olympic rings on Edinburgh Castle.
The London 2012 organising committee wants to place the five-ring symbol on the castle ramparts for four months next year.
The 8m-high (26ft) aluminium rings would be visible from several miles away and would be replaced later in the year with the Paralympic logo.
The City of Edinburgh Council has yet to consider the planning application for the Olympic advert.
However, the plans have drawn a mixed reaction from organisations and individuals in the capital.
'Short-sighted'
Edinburgh Central MSP Marco Biagi said: "It's galling to be asked to advertise an event that will draw tourists and visitors to a different city.
"I'm sure there will be a lot of strong objections from people in Edinburgh, and I certainly have substantial reservations about the idea."
Marion Williams, director of the Cockburn Association, said: "I can't see them being allowed to put it up on Windsor Castle. They could have put it on the Forth Bridge or maybe the North Bridge."
Lothians MSP Margo MacDonald said: "Do you think London would put up a big sign saying the Commonwealth Games is being held in Glasgow? I don't think so."
A Department for Culture, Media and Sport spokesman said: "It is short-sighted and disappointing that some people cannot recognise the benefits of having the Olympic rings in Edinburgh.
"Edinburgh Castle is a spectacular, iconic building, and will provide a fantastic backdrop for the rings, not to mention provide a focal point for games-related activities.
"London 2012 is for the whole of the UK and we know that Scotland will be right behind the likes of Sir Chris Hoy next summer, just like the whole of Britain."