Pipeline leak stopped from reaching Firth of Forth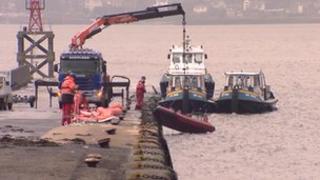 Further pollution from a leaking waste water pipe has been stopped from reaching the Firth of Forth, environmental agency Sepa has said.
Bunds and booms, which contain the water flow, have been set up by BP and tankers are being used to remove water from a nearby burn as a precaution.
Monitoring of air pollution has shown that levels of hydrogen sulphide gas have continued to fall.
The leak started under a field about 100m (328ft) from the Forth on Monday.
Residents have complained of a smell similar to rotten eggs at the leak site in South Queensferry.
BP, which operates the pipeline, has apologised for the leak.
The pipe carries waste water used for cleaning equipment at BP's Hound Point Terminal and links up with the Dalmeny oil storage tank facility near South Queensferry.
The oil company said the water contains only a small amount of impurities.
Lin Bunten, Sepa's head of operations for the East of Scotland, said: "The leak from the pipeline has slowed and work by BP has ensured that no further water is entering the Firth of Forth.
"Our airborne hazards emergency response vehicle, which was monitoring air pollution in the area, has shown that levels of hydrogen sulphide are very low, and continue to fall.
"The focus now is on analysis and Sepa will be continuing to take samples of water and pipe contents, as well as samples from soil near the pipe leak, to ascertain what the trace elements contained in the seawater in the pipe are and what, if any, impact this spill has had on the Firth on Forth."
Tom Moore, BP operations manager, said: "BP is continuing remediation works following a discharge of water from an effluent pipeline linking the Hound Point terminal to the Dalmeny storage facility.
"The flow rate has been reduced to a trickle and water is no longer entering the Forth.
"Work is continuing to fully drain and repair the pipe.
"Work has continued overnight to contain and remove water collected in the bunds for off-site disposal.
"BP is continuing to fully co-operate with Sepa with regard to its response activity, and regrets any inconvenience caused to members of the public whilst the matter is being resolved."