Robert Graham guilty of Leslie Cumming murder bid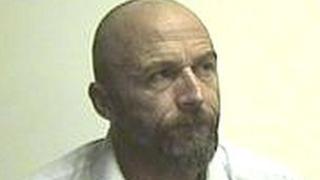 A hitman has been found guilty of trying to murder a senior Law Society official in Edinburgh.
Leslie Cumming, 68, then deputy chief executive of the Law Society of Scotland, was attacked in a lane near his home in Murrayfield, Edinburgh.
Robert Graham, 46, denied attempting to murder the accountant, but was convicted after a trial.
Mr Cumming was stabbed repeatedly in the attack on 23 January 2006, which left him with permanent scars.
Graham was remanded in custody and will appear for sentence on 15 December.
He was charged with repeatedly striking Mr Cumming on the head and body with a knife or similar instrument to his severe injury, permanent disfigurement and to the danger of his life.
Graham earlier told the High Court in Edinburgh that he did not assault Mr Cumming but intervened to stop him getting "a bigger hiding" after he was attacked by another man.
He was found guilty by a majority verdict.
Irish-born Graham, who assumed a new identity after arriving in Britain 12 years ago from New Zealand, confessed to a colleague that he had "done a judge in" and was paid £10,000 by a guy in a BMW to give him "a good working over".
At the conclusion of the trial, speaking on behalf of the Crown, Procurator Fiscal John Logue said: "In 2006 Robert Graham targeted and tried to kill Leslie Cumming because he was paid to do so."
A major part of accountant Mr Cumming's role with the solicitors' professional body was running a team of inspectors who checked the books of law firms to ensure they complied with accounts rules. He would be involved with dealing with disciplinary measures and providing information to law enforcement authorities.
After the verdict Mr Cumming said: "The police perseverance and professionalism and the Crown Office input have been vital in securing the result.
"It's important to me that I got that closure and I just want to thank the members of the team who were involved in this complicated case for their efforts on my behalf.
"The actual event was horrific and bloody and having to explain to the court in such detail as we could recall at this time was traumatic for my wife and me.
"I hope now the trial is complete and the result is known that this nightmare has ended for us and we can get back to normal life."
During the assault Mr Cumming grasped the balaclava worn by his attacker as he made a bid to unmask him.
Further DNA evidence was recovered from the Barbour jacket he was wearing at the time.
Before two teams of surgeons began to operate on Mr Cumming a doctor took swabs from around his fingernails as he lay anaesthetised ready for theatre that would help provide crucial DNA evidence against his attacker.
Graham was extradited from Australia, where he had gone to work at a remote community, earlier this year to face justice.
The former Morningside tanning salon boss and scaffolder stood trial at the High Court in Edinburgh after denying the attempted murder of his victim under the name of Robert Graham which he has used since arriving in Britain in 1999 with an illegally obtained passport.
The court heard from Graham that he was born in Ireland as Paul Francis McGhee before emigrating to New Zealand at the age of nine. But in Britain he called himself Robert Graham.
The Solicitor General for Scotland, Lesley Thomson QC, said: "He uses the name Robert Leiper Graham in this country and Paul Francis McGhee in New Zealand. The Crown is not in a position to say he is either of these people at this stage."
She said when he left New Zealand in 1999 there was an outstanding warrant out for him.
The prosecutor said a notice had been served on him in a move to deport him from Britain.
Det Ch Insp Keith Hardie, of Lothian and Borders Police, said: "We welcome today's verdict which sends out a clear message that Lothian and Borders will quite literally pursue people to the other side of the world to bring them to court.
"He is a devious character, who has lived a lie for most of his adult life, and there were major concerns he would do his best to continue to evade justice."
The Law Society of Scotland spokesman said of victim Mr Cumming: "He was a dedicated and popular member of staff and the attack was a great shock to his former colleagues. Leslie was determined not to let the attack stop him from living life to the full and he has done that in so many ways."