Man admits killing childhood friend in Pumpherston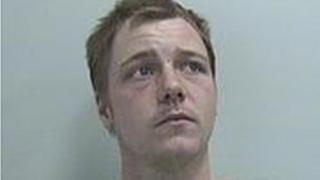 A man who killed his childhood friend in a frenzied knife attack during a row at a party in West Lothian has pleaded guilty to murder.
Robert Gracie, 23, was said to have been "like a maniac" when he set upon father-of-one James Tierney in the garden with a nine-inch blade.
Mr Tierney, 27, was stabbed eight times in front of onlookers.
Gracie now faces a life sentence after admitting to the murder at Letham Place, Pumpherston, on 2 April 2010.
He was remanded in custody ahead of sentencing on 16 January at the High Court in Aberdeen.
On Thursday, the High Court in Edinburgh heard the fatal row ensued after Gracie became upset, believing people at the party he held at his West Lothian home had shown a "lack of respect" for the property.
Before launching the attack, he warned: "I'm going to go mental."
Gracie claimed Mr Tierney had tried to attack him first with a brick, a suggestion prosecutors do not accept.
Lack of respect
The court heard how Gracie decided to have a party on Friday 1 April at the home he shared with his mother, after she had gone to work.
As the evening progressed, an argument involving Mr Tierney and two other partygoers broke out upstairs and resulted in Mr Tierney being hit in the face.
During the commotion, a picture frame was knocked off a wall.
Advocate Depute Pino Di Emidio told the court: "As the argument on the stairs continued, the accused (Gracie) apparently became upset at what he saw as a lack of respect for his mother's home.
"He went to the foot of the staircase and shouted at all persons present to leave his house. He was swearing as he did so.
"The group came downstairs. At that point the now deceased (Mr Tierney) took exception to the accused instructing him to leave.
"The now deceased went outside into the back garden and, it seems, challenged the accused."
He and Mr Tierney then "squared up to each other" and there was an angry exchange of words, the court heard.
Punches were then thrown and the pair were said to have been in a "boxers clinch" at one point.
The court heard how one onlooker then saw Gracie pick up a large knife from the kitchen and walk towards Mr Tierney.
Mr Di Emidio said: "The accused struck the now deceased repeatedly to the chest area with the knife.
"The now deceased fell backwards to the ground and fell on his side.
"The now deceased was curled up trying to cover his head with his arms. The accused continued to strike him as he lay on the ground."
Referring to his victim, Gracie then said: "Oh Jimmy, what have I done?"
He then rang 999 and said that he had killed his friend.
Det Ch Insp Phil Gachagan, of Lothian and Borders Police, said: "Jim Tierney suffered serious multiple injuries during the attack which, ultimately, cost him his life.
"The violent nature of this incident has shown Robert Gracie to be a dangerous individual and highlights once again the potentially lethal consequences of carrying knives.
"I welcome this guilty plea which does not in any way diminish the horrendous impact Mr Tierney's death has had on his family and hopefully provides them with some reassurance that his killer will now serve a significant term in prison.
"It is my sincere hope that they can now begin to move on with their lives."