Edinburgh World Heritage site set for big bins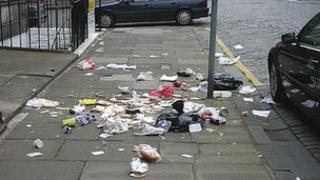 Large communal bins are set to be introduced to most Edinburgh streets within the World Heritage site, ending years of resistance by residents.
The United Nations heritage site is the last remaining area where domestic waste is collected in black bin bags.
Use of these bags has often resulted in litter-strewn streets after they have been ripped open by seagulls.
Residents have previously felt large container bins detract from the authentic look of the area.
Following a public consultation, which found widespread dissatisfaction with black bag collections, a number of different methods of waste collection were piloted at various places within the city centre over the summer.
They included communal containers, gull-proof bags, food waste and evening collections.
'Unsightly rubbish'
The pilot study found the highest level of customer satisfaction with communal containers (91%), followed by gull proof bags at 87%.
Robert Aldridge, Edinburgh City Council's environment leader, said: "Black sack collections have well passed their "use-by date", being so vulnerable to gulls and vermin, they lead to unsightly rubbish being strewn across pavements.
"We're very grateful to residents in the pilot areas for their invaluable feedback, which is fundamental to the changes we would now like to put in place across the World Heritage site, subject to further consultation in the areas not involved in the pilot."
The Modernising Waste Project was set up in September 2010, with the aim of identifying appropriate alternative methods of waste collection for the city centre, taking into account the issues associated with its World Heritage site status.
The project involved staff from Waste Services, the City Centre and Leith Neighbourhood Team, Planning, Historic Scotland and Edinburgh World Heritage.
The report, Modernising Waste Collection in the World Heritage Area, will be considered by Edinburgh councillors on 29 November.