Funeral for Eryk Cieraszewski who was swept out to sea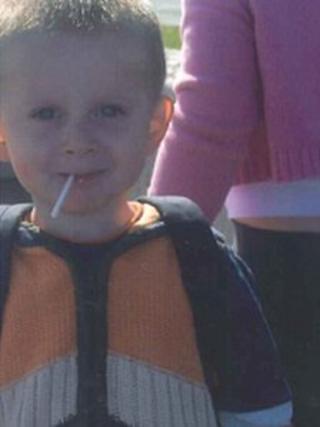 Tributes have been paid at the funeral of a "beautiful baby boy" who died after being swept from a Fife sea wall.
Three-year-old Eryk Cieraszewski died in hospital on 12 November after being swept from the seafront at Kirkcaldy's esplanade by a crashing wave.
Members of the lifeboat crew who pulled Eryk from the water joined his friends and family for the service.
Dozens of mourners packed St Marie's RC church for the service, including members of the Kinghorn lifeboat.
The Reverend Edward Wanak, who was at the hospital when Eryk died, told the congregation: "We are all asking, 'How could this happen? Why could this happen?'
"Everyone in the community is asking this, and especially the mass media.
"But we are not here to answer those questions, even if we could. We are here to commend Eryk to God.
"Eryk was a beautiful baby boy, only three years old, who I had met.
"My deepest sympathies go to his mother and father. We will miss him."
Holy water
Many mourners were from the town's Polish community, along with police officers and firefighters who were involved in the rescue effort.
The ceremony was conducted in Polish and English.
Eryk's father, Slawek Cieraszewski, gave a reading in Polish.
Reverend Wanak gave many mourners communion before sprinkling Eryk's white coffin with holy water.
Then, as the bells of St Marie's tolled, two pallbearers carried the coffin, bearing a white wreath, from the church.
Mr Cieraszewski, 34, said: "It's been a very hard time for me.
"I'm glad so many people could come and pay tribute to Eryk."
Following the tragedy, Eryk's mother, Jadwiga Cieraszewska, said: "Eryk will be sadly missed by all the family. We will never forget him."