Edinburgh tram works to add 10 minutes to journeys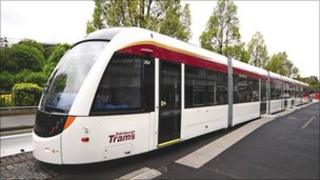 Commuters are being advised to add 10 minutes to their journeys through Edinburgh centre when work on the tram project enters a new phase in January.
St Andrew Street will be closed to traffic on 7 January, with Shandwick Place closing on 14 January.
A series of diversions will be put in place in the city centre as part of what Edinburgh City Council calls a "a co-ordinated traffic management plan".
Princes Street work will resume after Christmas and Hogmanay celebrations.
City council officials said the project was now "progressing well", following the end of a lengthy dispute with the companies building the line.
Expressed concerns
Dave Anderson, Edinburgh City Council's director of city development, said: "We are now moving forward with the project and, from January, work on all sections of the route, from the airport to St Andrew Square, will be under way".
"We would like to thank the people of Edinburgh for their continued patience throughout this process and reassure them that the project is on track to be completed within our current timescale."
The local authority has pledged to support businesses in the city centre, which have expressed concerns about the impact the continuing disruption is having on trade.
Gordon Mackenzie, Edinburgh City Council's transport convener, said: "We have been working closely with city centre businesses to minimise the impact on trade during the course of the works, committing close to £1m to our business support scheme over the next two years".
The tram line between Edinburgh Airport and York Place in the city centre is scheduled to be completed in 2014.
A public inquiry is to be held to examine why the project is years behind schedule and over budget.