Pension row strike disruption for Edinburgh and east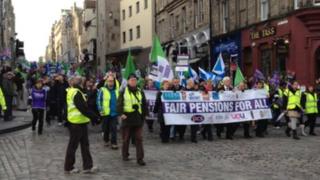 Thousands of public sector workers across Edinburgh, the Lothians and Fife have gone on strike as part of a dispute over changes to pensions.
They are among 300,000 workers taking part in industrial action in Scotland.
Thousands of protesters took part in a march in Edinburgh from Johnston Terrace to the Scottish parliament, where a rally was taking place.
All schools in the area were closed, and there was an impact on travel, hospitals, libraries and museums.
All urgent services at hospitals are unaffected.
The action is in response to UK government plans to increase the amount of money public sector workers pay into their pensions, raise the age of retirement and introduce career-average pensions.
At least 5,000 striking public sector workers marched to the Scottish parliament waving flags and blowing horns and whistles.
Isobel Culuk, 46, a Midlothian community nurse, told the BBC Scotland news website she was striking to protect her pension.
She said: "I have worked hard for the last 20 years so I don't want nothing at the end of it.
"We are going to be working more for less. We shouldn't be penalised. I am also striking for the younger generations to come.
"I hope by striking to save our pensions that the government changes its policy and plans.
"At the rate they are going I will need resuscitating to keep working to the age they are proposing."
'Subsidsing the rich'
Geoff Sims, 58, an Edinburgh City council roads official, said: "Our pensions are being cut to pay for the bankers, so its a case of the poor subsidising the rich.
"I'm furious about it.
"I hope this is the first of many reactions to make the public more aware of what is happening.
"There was a lot of support for us on the picket line from the public, including bus drivers beeping support for us."
Jenny Dawe, Edinburgh City Council leader, said: "While we would be disappointed if council staff took part in any national strike action we respect their right to do so in support of the unions' dispute with the UK government.
"Our priority will be to secure life and limb support for council clients and minimise disruption to other essential services provided to the people of Edinburgh."
Lothian Buses said its services were not expected to be affected, but users should check their website and Twitter feed for regular updates.
Edinburgh Airport said it was hoping to operate a normal schedule, but advised passengers arriving from overseas that they may experience longer waiting times at passport control.