Martin Gunn fined for taking firework to Hibs match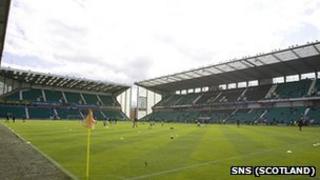 A football fan, who was found in possession of a firework in an Edinburgh stadium has been fined £200.
Martin Gunn, 20, from Wishaw, has pled guilty to being in possession of the firework in the Hibs' Easter Road ground on 26 October 2011.
Fiscal Depute, Mairi Vernon, said Gunn had been spotted with the firework on the way into the stadium.
The police were told and they stopped him inside the ground. The firework was found in a rear pocket of his jeans.
The Fiscal asked the court to consider imposing a Football Banning Order on Gunn.
However, Gunn was not given a ban.
Defence solicitor, Colm Dempsey, said Gunn had found the firework on his way to the game and put it in his pocket.
Gunn said he had not had any matches or lighter with which to ignite the firework. He told the police: "I have been an idiot."
Mr Dempsey described his client as "an avid Celtic fan", who had followed the team, home and away, since he was five years old.
He had no previous convictions of any kind.
The solicitor added that Celtic had suspended Gunn's season ticket pending the outcome of the court hearing and he did not know what further action the club might take.
"If he had been in possession of a firework anywhere but a football match he would not have been committing an offence," said Mr Dempsey.
He handed Sheriff William Holligan a copy of the legislation and argued that the offence did not fall within it.
Sheriff Holligan agreed with the agent's submission and fined Gunn.