Parade marks soldiers' homecoming in Edinburgh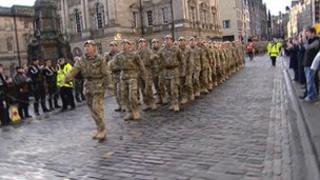 Hundreds of people have lined the streets of the capital to welcome home troops from a tour of duty in Afghanistan.
The Royal Scots Dragoon Guards recently returned to Scotland after six months in Helmand Province as part of Operation Herrick.
Their jobs included providing security and mentoring local police.
The regiment staged a homecoming parade through the heart of Edinburgh's Old Town on Thursday.
The soldiers marched from the castle down the Royal Mile, finishing at Canongate Kirk, where they attended a thanksgiving service.
Hundreds of family members, locals and veterans lined the street to applaud the troops as they made their way down the hill in the sunshine, led by the regimental pipes and drums.
Others took photographs of the parade, which temporarily stopped traffic from moving through the Old Town.
Trooper Matt Coner, 21, said taking part in the event, as his family looked on, was a "fantastic experience".
The soldier, from Dunbar, East Lothian, said: "Getting the chance to come back and march through the streets with everyone clapping was a fantastic opportunity.
"I've done a few parades but nothing like the turnout there was today."
One fatality
Trooper Coner said his job in Afghanistan was to secure a main route and provide security for the surrounding area.
He said: "Every single patrol was based on talking to the locals, trying to interact with them, but also mentoring the Afghan National Police Force and teaching them the skills we had.
"I didn't really know what to expect going out there. I didn't really think about the danger aspect of it, I just wanted to get the job done.
"Half of the squadron was based in Lashkar Gah, which towards the end of the tour was handed over to the police. That's a clear indication that we're making a difference out there and we're actually helping."
The "regimental family" suffered one fatality when Craftsman Andrew Found, from the Royal Electrical and Mechanical Engineers, was killed in an explosion in June.
Craftsman Found, of Whitby in Yorkshire, had been serving with the Royal Scots Dragoon Guards.
Trooper Coner said his loved ones were in people's thoughts today.
He added: "It had a big effect on the regiment. We had a few casualties as well towards the start of the tour. Obviously it plays a lot on your mind."
The regiment, which has also held parades in Glasgow and Dundee, will eventually return to their base in Germany.
Lieutenant Colonel Jonathan Bartholomew, Commanding Officer of the Royal Scots Dragoon Guards, said: "The soldiers return home very proud of what they have achieved and of the immense contribution they have made."