M8 vehicles hit by missiles from B792 bridge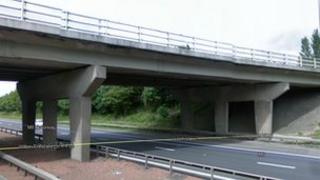 A van's windscreen has been smashed and a car roof damaged by large objects thrown from a footbridge over the M8 in West Lothian.
On Monday at about 19:10 the van was hit as it passed under the B792 Blackburn to Bathgate bridge.
The car was hit at the same place on Saturday at about 19:50. No one was injured in either incident.
The police are appealing for witnesses and warning drivers to be alert driving under bridges.
Insp Simon Bradshaw, of Lothian and Borders Police, said: "We are appealing for anyone who may have been in the area at the time, and who may have seen what happened, to contact police.
"Fortunately in both incidents no one was injured, but there is every chance that this mindless vandalism could have had far more serious consequences.
"By compromising the vision of one driver, the lives of everyone on that road are put in danger.
"The M8 is Scotland's busiest motorway, so these incidents could potentially have caused multiple fatalities."