Court for domestic abuse piloted in Edinburgh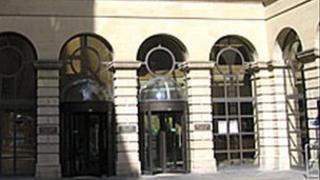 A domestic abuse court is to be piloted in Edinburgh to try to improve the way allegations are dealt with in the criminal justice system.
It will be carried out at Edinburgh Sheriff Court next year and will see specialist prosecutors, police liaison officers, advocacy workers and sheriffs come together.
They will deal with domestic abuse cases from the city's south and east.
There has been a domestic abuse court at Glasgow Sheriff Court since 2004.
Any domestic abuse offences committed in Edinburgh from 9 December onwards will be dealt with by the service, with the first court held on 7 February.
The Crown Office and Procurator Fiscal Service said the new approach would mean better provision for victims who would be offered support from specialist agencies with expertise in domestic abuse.
Edinburgh Domestic Abuse Court Service will be available to help female victims throughout the criminal process, while male victims will be offered support by Assist (Advocacy Support Safety Information Services Together).
Strong response
Support workers will be a link to the police and prosecution services throughout the process.
Trials are planned to begin within eight weeks of the accused's first appearance, which is half the average time it takes to bring domestic abuse cases to trial under the current system, providing a "swift and effective" response for victims.
The new service expects to deal with between 20 and 30 cases a month, with procedural and trial diets every second Tuesday to be held at Edinburgh Sheriff Court.
Adrian Cottam, assistant district procurator fiscal in Edinburgh, said: "Domestic abuse has a significant impact on victims, their families and our society.
"We know it is under-reported but also recognise the difficulties victims have in finding the strength to come to court, often after years of abuse.
"This pilot will allow the prosecution and our victim information and advice service to continue to show its strong response to this crime and build a better service to victims through multi-agency specialist working."