Woman wins bank injury case in Edinburgh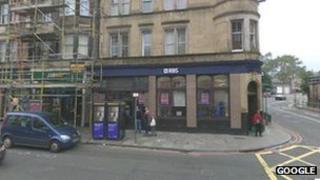 An Edinburgh guesthouse owner has been awarded £7,500 after slipping and injuring her ankle on a wet floor in a bank.
Patricia O'Donnell, 65, fell in a branch of the Royal Bank of Scotland in Home Street in Edinburgh on 28 September 2010.
The Armadillo Guest House owner was off work for three weeks following the soft tissue injury.
The puddle of water was caused from a leak from a flat above the bank.
Ms O'Donnell was wearing flat ankle boots with a ridged sole and after the fall her footwear, sock and trousers were wet.
A civil action at Edinburgh Sheriff Court heard that there had been a leak since February and the bank's employees had put a bucket under the area of the leak which was near to where customers queued to be served.
Light colour
In her judgement, Sheriff Kathrine Mackie said: "I formed the impression that the defenders had adopted a cavalier approach to the risk presented by the leak. It had existed for several months.
"They had become overly complacent".
The bank had raised the question of contributory negligence submitting that if Ms O'Donnell had been watching where she was going she would have seen water on the floor if there was sufficient quantity to make her sock and trousers wet.
Sheriff Mackie said: "There was no evidence that water on the linoleum floor would be visible to a customer taking reasonable care for their safety.
"Water is a clear substance. The linoleum floor appears to be a light colour.
"I do not believe it can necessarily be inferred that water would have been visible to a customer such as the pursuer if taking reasonable care.
"For this reason I do not find the accident was caused or materially contributed to by the fault of the pursuer."