'Tinsel' the snake found outside a Lidl store in Fife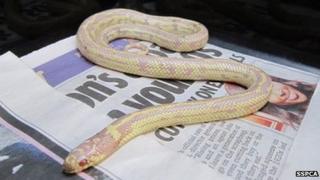 A snake has been found outside a supermarket in Fife.
The Scottish SPCA is appealing for information after the discovery of the albino kingsnake at the Lidl store in Leven.
The young snake is being cared for at one of the charity's animal rescue and rehoming centre, where it has been given the name "Tinsel".
Snakes need warmth to survive and conditions at the time "Tinsel" was found are said to have been very cold.
Animal Rescue Officer Robyn Cooper said: "It's very lucky that Tinsel was found as snakes need heat and can't survive for long outside in the cold.
"Tinsel is young, no older than one year and could be a stray, although we can't rule out the possibility of abandonment.
"Thankfully, Tinsel is now safe but we're very keen to establish how this snake came to be in such a vulnerable position.
"We'd urge anyone with information to get in touch as soon as possible."