London 2012: Digital welcome at Edinburgh Hogmanay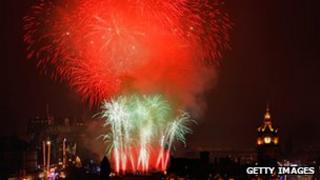 Partygoers at Edinburgh's Hogmanay will be able to get a special digital welcome to 2012 - heralding the start of the Olympic and Paralympic year.
Using the free iphone app, mobiles pointed at Edinburgh Castle at midnight on 31 December will get an e-card which can be used as a backdrop in photos.
It marks the first countdown event of the London 2012 Festival which runs from 21 June to 9 September 2012.
The app can be downloaded from the Edinburgh Hogmanay website.
Organisers expect up to 80,000 people to attend the UK's largest New Year's Eve party and fireworks display.
Digital age
They are hoping people will download the app to receive the virtual greeting before sending it on to family and friends around the world.
The project, called @thistimeofyear, will be the first countdown event for the 12-week London 2012 Festival which encompasses cultural events around the UK in the Olympic year.
Ruth Mackenzie, director of the Cultural Olympiad and the London 2012 Festival, said: "We're excited to be working with Edinburgh's Hogmanay for our first countdown event which, in this digital age, brings together new technologies and art for the New Year celebrations in Edinburgh.
"We hope @thistimeofyear will bring a fun dimension to the celebrations as we see in the Olympic and Paralympic year."
Andrew Dixon, Creative Scotland's chief executive, said: "Scotland is a festival nation and Hogmanay is one of the biggest and best.
"This Hogmanay will kick off an extraordinary, year-long celebration of Scottish creativity for the Year of Creative Scotland 2012 and the London 2012 Festival and @thistimeofyear is the perfect start."