Record number of seal rescues in Scotland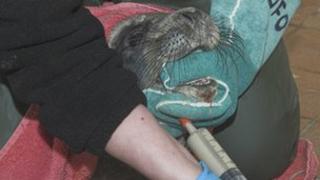 A record number of injured seals have been rescued in Scotland this winter, new figures show.
The Scottish SPCA, said it rescued its 99th and 100th injured pups on Christmas Day and Boxing Day.
Its Wildlife Rescue Centre in Fife has now cared for more than 100 seals this year - compared with 75 in 2010.
UFO was found on Christmas Day in Musselburgh while Keplar was rescued on Boxing Day from Eyemouth. The seals are now being cared for in Fife.
It is thought bad weather has been a factor in the increased numbers, with pups being bashed against rocks.
Colin Seddon, centre manager of the Scottish SPCA's wildlife rescue centre at Middlebank in Dunfermline, said: "This significant increase is due to a number of reasons.
"Certainly bad weather is an issue and we've rescued several pups who have arrived with various injuries as a result of being bashed against rocks.
"There is also a greater awareness from the public about the Scottish SPCA and what we do.
"Many people now know that if they spot an injured seal they should phone our animal helpline for advice and we have more inspectors and animal rescue officers to respond to calls than ever before."
He added: "UFO was found struggling on Christmas Day in Musselburgh, possibly as a result of recent storms.
"He is underweight and has minor wounds from hitting against rocks due to heavy seas and high winds.
"Keplar arrived in our care on Boxing Day from Eyemouth. He is very weak and is suffering from a painful eye injury which he is currently receiving treatment for.
"We're very hopeful that both seals will recover and we'll release them back into the wild once they are able to fend for themselves."