Woman hurt as car lands in field in Kirkliston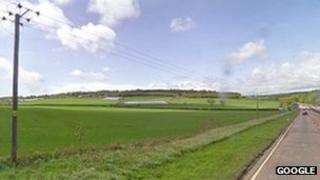 A woman has been cut free from her car after it skidded on ice, struck a telegraph pole and landed upside down in a field on the outskirts of Edinburgh.
The woman was driving in Burnshot, Kirkliston, at the time of the crash at 07:20.
It took 30 minutes to free her from the car, before she was taken to Edinburgh Royal Infirmary.
Details of her injuries are not yet known.
The road was closed after the crash, but has since reopened.