Braille recipe book boosts Scottish charity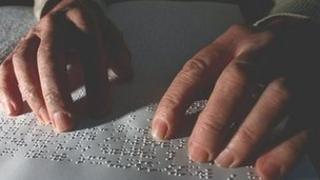 An Edinburgh celebrity chef has created a Braille recipe book for charity.
Tony Singh has put together the recipe book with the help of children from the Royal Blind School in the capital.
The cookbook is being produced in Braille and in large print, and is part of the celebrations of National Braille week, which started on Wednesday.
Mr Singh, who owns Edinburgh restaurant Oloroso and has appeared on TV's Ready Steady Cook, said: "It's something I was delighted to be a part of."
He said: "Cooking is about creating and enjoying delicious meals together and visual impairment should not act as a barrier to this fundamental, fun part of life.
"We wanted to create something in the cook book that would allow people, through the ever-important medium of Braille, to both celebrate the art of cookery and use the recipes in a practical way to actually make delicious meals together with friends and family."
'Dispel the myth'
Dishes such as haggis pakora, blood bay scallops with lemon galette and rioja cake with figs are among the 43 recipes included.
Proceeds from the book will go towards Royal Blind, which has helped blind and visually impaired people for more than 200 years.
Richard Hellewell, chief executive of Royal Blind, which supports the Royal Blind School, said: "We want to highlight the vital importance of Braille, which is as essential to the lives of those who depend on it now, as it has ever been.
"Braille enables inclusion and opportunity, and allows us to dispel the myth that people with visual impairments cannot participate in the joys of everyday life, such as cooking."