Sex offender Gerald Niven has appeal bid rejected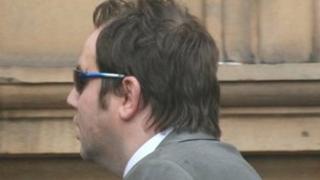 A sex offender who groomed a schoolgirl to try to let him belt her has had a bid to cut his two-year jail sentence rejected by appeal judges.
Gerald Niven, 37, contacted the girl, 14, on Bebo and offered her £250 to meet him so he could "give her pain".
He told her she had to wear her school uniform and hair in a ponytail.
Niven had admitted at Dundee Sheriff Court committing an offence under child protection legislation between 4 February and 24 March 2010.
The Dundee man used an alias when contacting the pupil and when police searched his home they found a laptop with an evidence eliminator programme running.
Sheriff Richard Davidson jailed him and also imposed a further two year period of supervision on Niven.
But Niven appealed against the length of the prison term claiming on Friday at the Court of Criminal Appeal in Edinburgh that it was excessive.
His counsel Claire Mitchell said he had never before served a custodial sentence and would be supervised following release as well as being on the sex offenders register for 10 years.
Lord Reed, who heard the appeal with Lord Brodie, said Niven had contacted the girl and offered her money in return for taking part in activities for his own gratification.
The senior judge pointed out that he had previously been convicted of similar offences involving grooming female children.
"The sheriff concluded that the appellant was a determined sexual offender with a strong predilection for sexual behaviour involving school girls," said Lord Reed.
The judge said the sheriff had taken a starting point of three years in sentencing and reduced it to two years imprisonment to take account of the guilty plea.
"It may be the starting point is also somewhat high, but it appears to us the resultant period of two years was about right," he said.