Road closures as Edinburgh trams project work resumes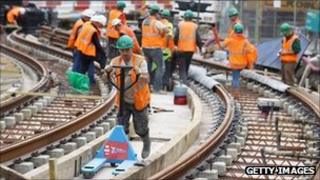 Drivers have been advised to expect delays as work on the next phase of the Edinburgh trams project gets under way in the city centre.
St Andrew Street is closing to traffic from this weekend, with Shandwick Place due to shut from Saturday 14 January.
A series of diversions will be in place. There will still be access to shops and business premises.
Work on Princes Street was suspended in November for Christmas and New Year celebrations but has now also resumed.
The latest road closures will allow all remaining utility work to get under way ahead of the start of major infrastructure work beginning in February.
From this weekend the east side of St Andrew Square (including North and South St Andrew Street) will be closed to vehicles, with all traffic switched to the west side (South St David St).
The work site will extend down onto Princes Street and to the right as far as Waverley Bridge.
Work will begin on Shandwick Place next Saturday, with the road closed to all traffic between Atholl Crescent and Lothian Road.
Traffic will be diverted to either Melville Street or the West Approach Road.
When this phase of the tram works was announced in November commuters were told to allow 10 more minutes for their journeys through the city centre.
The tram line between Edinburgh Airport and York Place in the city centre is scheduled to be completed in 2014.
A public inquiry is to be held to examine why the project is years behind schedule and over budget.