Mavisbank House to be bought by Midlothian Council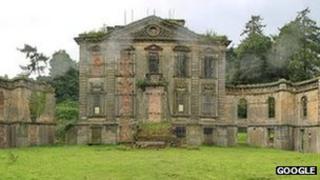 An architecturally renowned Georgian country house has been saved after suffering decades of neglect.
Mavisbank House near Bonnyrigg will be bought by Midlothian Council which will then transfer ownership to a Preservation Trust.
Mavisbank house was designed by William Adam in 1722.
It is described by Historic Scotland as one of the country's most important houses and is the first Palladian villa to be built north of the border.
It was gutted by a fire in 1974.
Compulsory purchase
The Mavisbank Preservation Trust said it was confident it could restore the building.
The house is privately owned but the owners remain a mystery.
The council will use its power of compulsory purchase to buy it.
Ownership will then be transferred to the Midlothian Preservation Trust on the condition that it reimburses the council's costs and takes full responsibility for the renovation work.
Russell Imrie, Midlothian Council's cabinet member for strategic services, said: "The house remains capable of restoration, either to a wind and watertight shell, or even full restoration and re-use, and the grounds, which are owned by Historic Scotland, have substantial potential for managed access and informal recreational use.
"Mavisbank Preservation Trust is confident that it can raise sufficient finance to restore and maintain the House and carry out vehicle-access works to the Grounds.
"The architectural beauty, history and European significance of this A-Listed Building make it worth fighting for, as potentially one of the most beautiful landmarks in the Lothians."