Woman and children in Livingston house blaze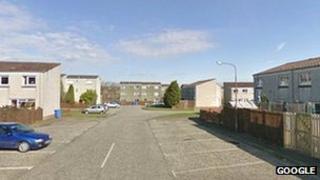 A woman and two children have been treated in hospital for shock after a fire broke out at a house in West Lothian.
Firefighters were called to the three-storey property in Mowbray Rise, Dedridge, just after 22:00 on Tuesday.
The blaze is thought to have started in a cupboard on the first floor.
A spokeswoman for Lothian and Borders Fire and Rescue Service said the woman and two girls, aged 13 and 15, were suffering from shock.
All three were taken by ambulance to St John's Hospital in Livingston.
A Lothian and Borders Fire and Rescue Service spokeswoman said: "The fire was quickly brought under control by firefighters, however the property, which had no working smoke alarms, has been severely damaged by the fire and it was fortunate no-one was injured.
"The fire and rescue service urges residents to ensure they have a working smoke alarm fitted."
Second fire
Earlier on Tuesday, a 60-year-old man was rescued from his bungalow after a fire broke out at 14:30.
Eighteen firefighters arrived at the scene after several calls from neighbours about smoke billowing from his house in Craiglockhart Dell Road in Edinburgh.
The man was suffering from "severe smoke inhalation" and taken to Edinburgh Royal Infirmary for treatment.
It is understood the fire started in a back bedroom.
Six firefighters wearing breathing apparatus and using two high-pressure hose reels extinguished the blaze.
The house was badly smoke-damaged.
The cause of the fire is not yet known.