Murder probe after 'brutal' death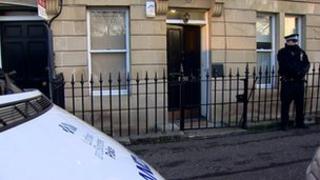 A murder inquiry has been launched after the body of a man was found in a flat in the Leith area of Edinburgh on Saturday.
Police said the man, believed to be in his 30s, died a "violent and brutal" death at the Dickson Street flat.
It is thought his body may have lain in the flat for up to two days.
He was found by a tenant who returned after a couple of days away. Officers said they were following a number of positive lines of inquiry.
However, they appealed for information from anyone who may have noticed any suspicious activity around the property in the past week.
Det Supt Allan Jones, who is leading the investigation, said: "While we have yet to formally identify the male found within the property, there is no doubt that he died a violent and brutal death.
"We are following a number of positive lines of enquiry, however we are particularly interested in any activity in or around the flat in Dickson Street within the last week."
Det Supt Jones said the property was a main door flat in a busy residential area.
He added: "We have a number of detectives working on this case, as well as increased patrols in and around the Leith area to gather vital community intelligence.
"I would appeal to anyone who may have any information, no matter how insignificant it may seem, to come forward to us immediately."