Royal Yacht Britannia back in its berth in Leith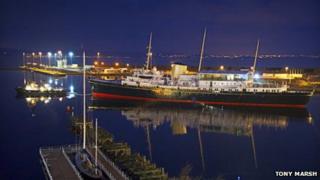 The Royal Yacht Britannia has returned to its berth in Edinburgh after spending 11 days in dry dock for routine maintenance and repainting.
While it was being moved from its mooring in Leith on 6 January, it developed a leak in a door seal and began listing on its starboard side.
Fire crews helped to pump water from the ship before the leak was repaired.
The yacht is now back at Ocean Terminal and will reopen to visitors on 1 February.
This was the first time the Britannia had been moved from its Edinburgh berth in almost 14 years.
A Britannia spokeswoman said: "They played I am Sailing by Rod Stewart as they brought it back to its berth. It was quite touching as it doesn't often move these days."
The yacht served the Royal Family for more than 44 years, travelling more than one million miles before being decommissioned.
It had a record-breaking 275,000 visitors in 2011.