Review of staff checks at Edinburgh Royal Infirmary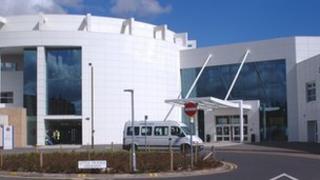 A health board has demanded an urgent inquiry after it emerged checks on staff working at a hospital may not have been properly carried out.
It is understood the situation at Edinburgh's Royal Infirmary came to light when NHS Lothian asked private firm Consort Healthcare to look at the background of a staff member.
The firm admitted the necessary checks had not been done.
There are now concerns other staff may not have been properly vetted.
NHS Lothian has reportedly requested 580 Disclosure Scotland forms, which look at the background of staff members with regards to criminal convictions.
Jackie Sansbury, chief operating officer at the health board, said: "We were surprised and disappointed to discover that our PFI provider Consort has not been performing the necessary checks on all their staff members employed in the Royal Infirmary of Edinburgh.
"This is in breach of our agreement with the company and I have demanded an urgent review from them.
"Patients must be able to have complete faith in their safety while in hospital and therefore we have insisted that sub-contracted employees will work in pairs in areas we have identified as appropriate.
"This will be done at no additional cost to the NHS until the problem is resolved and the checking process is complete."
No-one from Consort was available to comment, but a spokeswoman told the Edinburgh Evening News newspaper: "Consort is investigating the reason for this lapse and is carrying out full checks."
Disclosure checks
Scottish Conservative health spokesman Jackson Carlaw has urged Health Secretary Nicola Sturgeon to carry out a review to ensure the same thing has not happened elsewhere in the country.
He said: "This lapse in security at Edinburgh Royal Infirmary will cause widespread concern.
"It is inexcusable. Although this failure is the responsibility of a private contractor, the concern and suspicion of many members of the public will be that it is typical and that the failure to mount adequate employee checks is far more widespread.
"Nicola Sturgeon must act quickly to establish the facts, act accordingly and urgently as required and reassure the public at the earliest opportunity."
A Scottish government spokesman said: "We would expect NHS Lothian to fully investigate this issue as a matter of urgency.
"The Scottish government expects health boards across Scotland to have rigorous procedures in place concerning disclosure checks.
"That should also apply to any company that is undertaking work in hospitals. Guidance, to this effect, was issued to health boards."
A review of security was carried out by NHS Lothian in November after a 21-year-old Consort employee working as a cleaner at the hospital was charged with a breach of data protection.
The man was accused of using information about a female patient to contact her on Facebook.