Bid to increase Edinburgh's visitors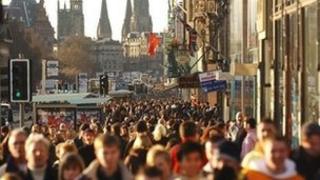 A tourism body is attempting to increase the number of visits to Edinburgh by a third in the next eight years.
The Edinburgh Tourism Action Group has unveiled a strategy called Edinburgh 2020 which outlines how it hopes the tourism sector can continue to grow.
It is a result of a consultation with tourism related business.
The first objective is to increase number of visits from 3.27m to 4.39m visits.
It also aims to get visitors to spend up to 10% more when they are here.
Edinburgh Tourism Action Group (ETAG) plans to meet these aims by investing in visitor attractions in the Old Town and New Town and improving conference facilities.
Remarkable transformation
It also wants to create more opportunities for winter tourism, so that Edinburgh becomes an all-year round destination for visitors.
Robin Worsnop, chairman of ETAG, said: "The past 20 years have seen a remarkable transformation in the scale and nature of Edinburgh's tourism industry and its impact on the economic, social and cultural life of the city.
"Once a highly seasonal destination, dominated by leisure tourism, Edinburgh now has a rich, diverse year-round industry, with a very strong, high yield conference and meetings sector.
"Tourism-related employment has gone up from 12,000 in 1989 to 32,000 now.
"Edinburgh 2020 is about maintaining the momentum of growth for the next 10 years and beyond.
"The strategy will support the creation of 6,500 new full-time jobs in Edinburgh by 2020."