Edinburgh may lose its mounted police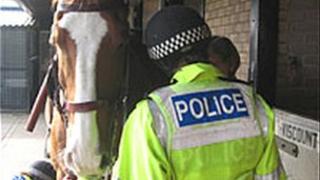 Lothian and Borders Police may lose its 130-year-old mounted police section amid talks over budget savings.
The force's mounted unit in Edinburgh, could be absorbed into Strathclyde police's larger mounted section.
Plans show how the unit's five horses could be transferred to a farm in Ayrshire, and its seven police officers deployed elsewhere.
The force spends £52,000 a year on food, care and equipment for the animals.
The horses would only return from Ayrshire for specific duties under the plans, sent to the force's police board.
The horses are currently used for mounted patrols in Edinburgh city centre.
Potential merger
A Lothian and Borders Police spokesman said: "Lothian and Borders Police can confirm that following a review into its future provision of a mounted section, it has started discussions with its colleagues in Strathclyde Police.
"These discussions focus on the potential merger of the Lothian and Borders Police mounted section assets with Strathclyde Police.
"However the public can be assured the force horses will still be deployed within the Lothian and Borders Force area, as and when required.
"Under the current proposals, the officers will be deployed to other specialist policing duties but a number will maintain their skills and relationship with their horses through regular training exercises and participation in events within the Force area.
"Lothian and Border Police expect to generate savings in excess of £50,000 if the merger of assets goes ahead."